So here is the most easy-to-cook delicious meal that I have recently fallen in love with. It can take you about 20 minutes to prepare it. It has dazzling flavors, packed with protein and fiber. It is good for your gut health and keeps the little critters in your tummy flourishing as they are your gut buddies.
This is the easy-go-to meal, you can eat it for lunch, or dinner or make it as a side dish. This gut-friendly dish's main ingredients are Quinoa and Chickpeas. Before delving into the preparation of this magical dish, let's give you some facts about Quinoa and Chickpeas.
What Is Quinoa?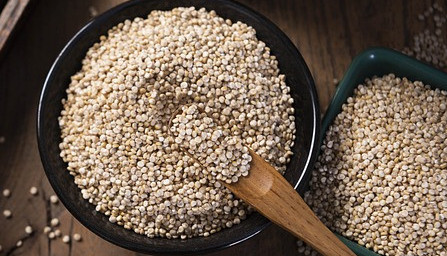 Quinoa is not a grain but rather a seed. It is related to the Amaranth family as mentioned in Wikipedia, it is gluten-free, so those who suffer from gut disorders such as Celiac disease can enjoy Quinoa instead of other grains. without compromising their health. In BBC Good Food magazine is said "Quinoa is the same family as beet, chard, and spinach". It originated from Peru, Chile, and Bolivia.
The Icans people ate it as their primary source of food for thousands of years ago. But recently food enthusiasts have created a buzz about Quinoa and it seems like people a falling in love with it, for its ease of it's preparation and all the great nutritional benefits it has including me.
Benefits of Quinoa
Keep you regular: The fiber in Quinoa helps with regularity, lessening constipation issues. Gut microbes love feeding on fiber thus helping to increase good gut bacteria.
Reduces inflammation: flavonoids are antioxidants found in Quinoa that prevent damage to the cell because of their oxidative properties. As a result, prevent chronic disease.
Balances blood sugar: A single cup of Quinoa has a daily intake of magnesium which helps in reducing the risk of type 2 diabetes.
Support heart disease: Quinoa is high in potassium and magnesium which are both important for heart health. Potassium is one mineral that is critical for the reduction of blood pressure keeping the heart strong.
Gluten-free: People who have issues with grains have a good alternative to gluten-free seeds, for example, Celiac disease is one that affects many people so they can replace all the other grains with Quinoa.
Bone health: Quinoa contains manganese, magnesium, and phosphorus that all help build strong bones preventing osteoporosis.
Prevent Anemia: Quinoa is a source of Iron, given that many individuals have iron deficiency in their diet. A recent study says 25% of the population worldwide faces anemia of this 50% is from iron–deficiency anemia
Nutritional facts of Quinoa

Calories: 269
Protein: 14.5g
Carbohydrates: 45g
Dietary Fiber: 12.5g
Fat: 4.2g
Vitamins and Minerals:

Vitamin C: 4%
Thiamin (Vitamin B1): 13%
Folate (Vitamin B9): 71%
Iron: 16%
Magnesium: 12%
Phosphorus: 17%
Potassium: 8%
Sodium: 33%
Copper: 24%
Manganese: 74%
An itemized list of the nutrient values and percentages of the daily recommended intake based on a 2,000-calorie diet.
What Is a Chickpea?
Chickpeas are dated as far back as 7000 BC and are cultivated in Mesopotamia which is the modern-day Middle Eastern countries eg Iraq, Iran, and Kuwait. Now India grows about 70% of chickpeas in the world. Chickpea belongs to the family of legumes.
Benefits of Chickpea:
Help balance blood sugar: This benefits diabetes people by releasing sugar slowly because of the type of starch called amylose. Chickpea has complex carbohydrates that prevent blood sugar spikes because sugar is released slowly.
Digestive aid: Because of high fiber diet stools are passed easily, cleansing the colon properly, preventing constipation, and reducing gut inflammation.
May reduce the risk of cancer: It has cancer-fighting components such as lycopene and saponins
Lower cholesterol: Chickpeas contain soluble fiber that can lower your total cholesterol and LDL (bad cholesterol) which is critical in lowering your risk of heart disease
Nutritional value of chickpea
Calories: 269
Protein: 14.5g
Carbohydrates: 45g
Dietary Fiber: 12.5g
Fat: 4.2g
Vitamins and Minerals:

Vitamin C: 4%
Thiamin (Vitamin B1): 13%
Folate (Vitamin B9): 71%
Iron: 16%
Magnesium: 12%
Phosphorus: 17%
Potassium: 8%
Sodium: 33%
Copper: 24%
Manganese: 74%
Delicious Quinoa and chickpea recipe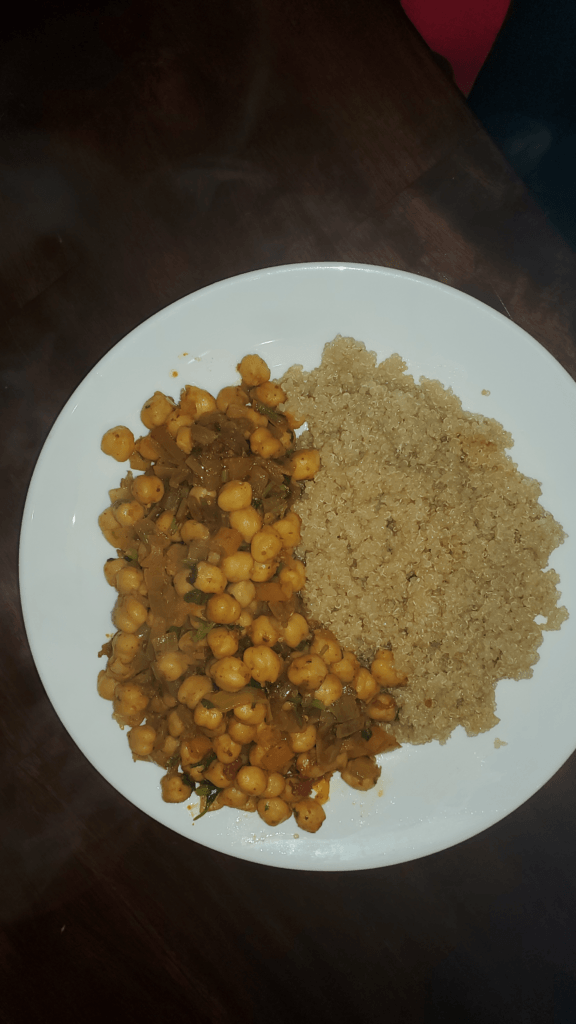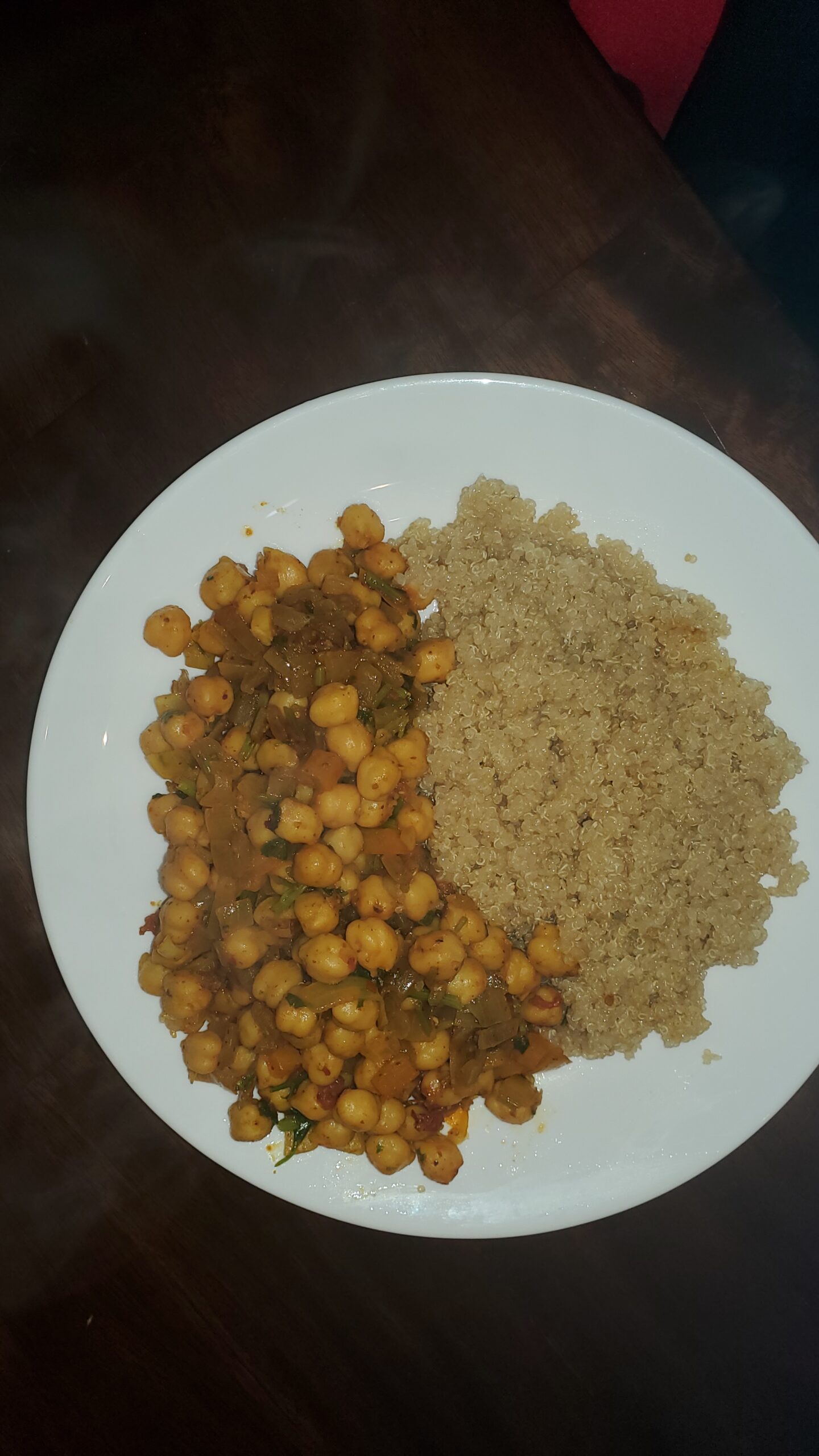 Ingredients:
1 1/2 cups of Quinoa, make sure to rinse and drain
3 cups water or vegetable broth of your liking
2 (15oz) cans of chickpeas drained and rinsed
2 large tomatoes washed and chopped into small pieces
2 large onions, finely chopped, I like red onions better but you can use any
1/4 cup freshly cilantro chopped
4 tablespoons of olive oil
2 tablespoons of lemon juice
Salt and pepper
Red pepper flakes to spicy it up (optional)
1 clove freshly chopped garlic
Cumin – I recommend freshly ground cumin that gives out-of-this-world flavor
Instructions:
Prepare Quinoa:

Rinse the quinoa under cold running water to remove any bitterness.
In a medium saucepan, bring 2 cups of water or vegetable broth to a boil.
Add the quinoa, a pinch of salt and 1 tablespoon of olive oil reduce heat to low, cover, and simmer for about 15 minutes or until the liquid is absorbed and the quinoa is tender. Remove from heat and let it sit, covered, for 5 minutes. Fluff with a fork.

Prepare Chickpeas:

While the quinoa is cooking, heat a skillet over medium heat.
Add 2 tablespoons of olive oil, chopped onion, bell pepper saute
Add drained chickpeas, sprinkle cumin, salt, pepper, red chili flakes (optional), garlic and tomatoes
Sprinkle with cumin, salt, and pepper. Sauté for about 10 minutes until they become soft, Set aside.

Final touch add fresh cilantro and lemon juice.
Your dish is ready to be served, garnish with more cilantro and lemon wedges if you like. You can also make this recipe customizable by adding whatever vegetables you like or spices don't limit yourself
In conclusion
Discover a delicious and nutritious meal that's not only easy to make but also great for your gut health. This meal stars two superfoods: quinoa and chickpeas. Quinoa is a powerhouse of nutrients, offering fiber for regularity, reducing inflammation, balancing blood sugar, and supporting heart health. Chickpeas are fantastic for blood sugar control, digestion, cancer prevention, and lowering cholesterol.
We've included the recipe to make it simple for you. Just cook the quinoa and sauté chickpeas with some veggies and spices. It's a customizable dish, so you can add your favorite veggies and spices for extra flavor. Enjoy this gut-friendly meal for lunch, dinner, or as a side dish. It's a tasty and easy way to promote your gut health!
References:
---
---